Cache Makes the World Go Round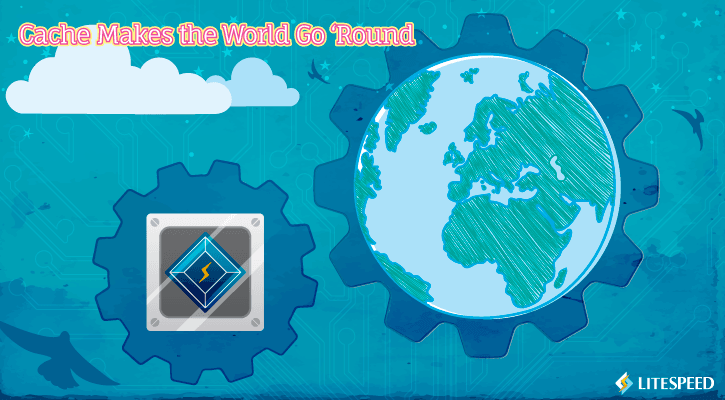 First, we would like to thank each and every one of you for trying out LiteSpeed Cache for WordPress. We're proud to see that there are 30,000+ active WordPress sites running LiteSpeed Cache. There was an enormous effort to make this plugin the easiest and most efficient caching solution for both WordPress users and hosts. Our latest release of 1.0.14.1 includes some exciting User Interface changes that hopefully simplify things for the administrator/user.
If you haven't tried our plugin yet, or tried it in the past and were unable to get it working, please give us a try now! If you run into any issues we'll be glad to help – as issues that affect you could potentially affect other users as well. The cache plugin works not only with LiteSpeed Enterprise, but also with OpenLiteSpeed and LiteSpeed Web ADC products as well. This means sites of any size can benefit from switching to LiteSpeed. And if you need to get a site up and running quickly, you can do it in one command using our ols1clk script, so be sure to check it out!
For the command line enthusiasts, we added some initial support of wp-cli. It is now possible to purge the cache from the command line using wp-cli! Currently, it is capable of purging all blogs (for multisite installations) or a single blog; it can even purge by url. These wp-cli commands will instruct the server to purge without you ever needing to log into the admin. If you have a request for a command, shoot us some feedback on the support forum! We'll see if it can be added for the following release.
Welcome to the future of caching.
We anticipate releasing 1.1 within the next few months. 1.1 will be our first significant release since inception. Among the changes is ESI caching. ESI enables us to provide a more accurate cache while also allowing us to cache more. Widgets can be cached separately (recent posts, as an example) and purged without purging the whole page. Logged in users can be cached with all their private data cached separately, so no one will see other users' information. If you're interested in testing out 1.1 before release, please send an email to info! We have a slack team prepared to speak with you directly about any issues you may face while testing 1.1.
With regards to 1.0.14: We originally added Freemius as a way to help us improve the plugin further, but we received strong feedback regarding this change, and will no longer be using Freemius. That said, we still need your help to make this plugin better than before. If you have a feature request or any feedback in general, please submit them on our support forum. We welcome all feedback and will try to accommodate any and all feature requests, but we can't do that unless you let us know about them!
We've hit 30,000, you should be next!
---