LiteSpeed Technologies, Inc. Joins the Amazon Web Services (AWS) Partner Network (APN)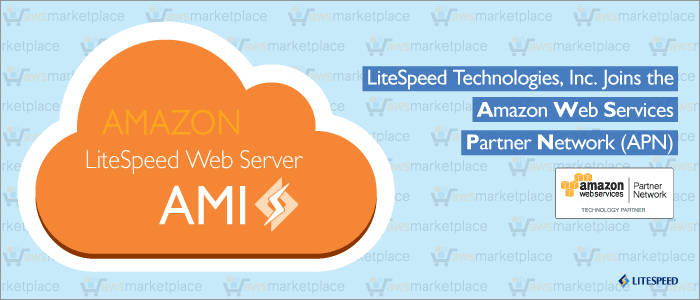 LiteSpeed Technologies, Inc. is proud to announce our new role as Technology Partners in the APN. This development allows us to better serve our AWS customers, giving us access to many AWS benefits and services that will help us make LiteSpeed Web Server the best Cloud web server available.
Concurrent with joining the APN, LiteSpeed Technologies, Inc. announces the immediate release of LiteSpeed Web Server AMI for Amazon Web Services, marking our debut in Cloud Hosting software.
As Cloud services offer a rapidly expanding technology platform, we believe that LiteSpeed Web Server AMI availability will marry the scalability, redundancy, and on-demand deployment of AWS to the efficiency, reduced cost and blazing performance of LiteSpeed Web Server and our Cache Solutions.
Beginning with version 5.1.15, new releases of LiteSpeed Web Server will also be available as AMIs on AWS, delivering all the same features you know and love in LSWS with the added benefits of being in the Cloud.
Each AMI includes a 15 day free trial for you to try us on the Cloud for yourself, so you can be up and running in the Cloud in minutes.
Get started now at the AWS Marketplace!
Our new APN debut with LiteSpeed Web Server for AWS is but our first step into Cloud software, with many more leaps to come. We have several Cloud related projects underway, so watch our news feeds and this blog for further announcements.
Come give us a try, you won't regret it!
Be sure to take a look at our wiki at LiteSpeed Wiki – Cloud Platforms for articles on how to get set up on the cloud!
And, as always, be sure to contact us at any time if you have any questions, comments or concerns!
---