Official cPanel Support for LiteSpeed Web Server!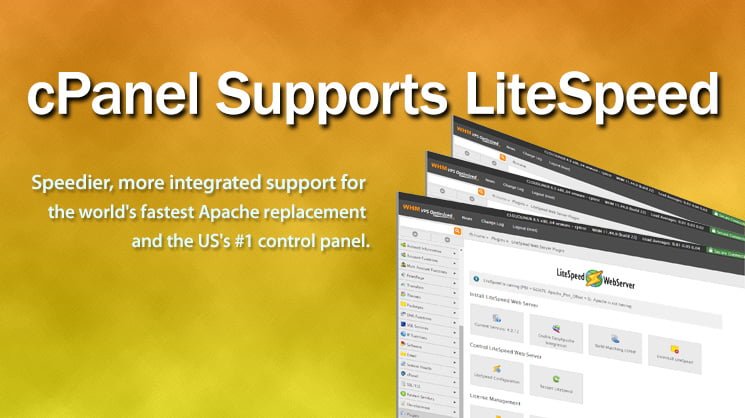 You requested it. We delivered. cPanel and LiteSpeed are announcing official support for LiteSpeed Web Server users through cPanel's ticket system.
Faster, More Comprehensive Support
cPanel users who use LSWS will now be able to get the same great level of cPanel support that Apache users get. Just submit a ticket in the cPanel ticket system. You will not be required to turn off LiteSpeed. You will get thorough examination of your problems. LiteSpeed and cPanel are cooperating to ensure all cPanel customers get fast and complete solutions to their issues.
Tickets will start with cPanel's experienced and resourceful representatives. They have been trained in cPanel-LSWS setups and will be able to handle most issues (especially if it is not LiteSpeed-specific). LiteSpeed technicians will always be on hand, though, to address any LiteSpeed bugs or configuration problems through the cPanel ticket system. LSWS-cPanel users will benefit from faster, more integrated, and reliable support as our two support teams cooperate and engage in greater communication.
Better Performance for cPanel Users
LiteSpeed and cPanel's cooperation comes partially in response to calls from the growing number of hosts using LiteSpeed with cPanel. People want and need LSWS as a way to cut resource usage and speed up their servers. Supporting LSWS empowers cPanel users to try out the world's fastest, most efficient Apache replacement and get more out of their hardware. By supporting LiteSpeed, cPanel is helping their users get better performance and save money. Better communication between LiteSpeed and cPanel will also lead to faster compatibility fixes, better coordination of improvements, and stronger overall products for both companies. We are very excited for the continued development of our relationship with the US leader in hosting control panels.
Where to Go for Support
If you have a cPanel problem, go to cPanel for support. They will be able to help you, though now they can also call in LiteSpeed if they need us.
If you have a problem with LSWS only — an LSWS bug, for example — it will always be more efficient to report the issue directly to us.
Thank You LiteSpeed Users!
We'd like to thank the numerous LSWS users who have pushed for this to happen. Your feedback guides us and helps make new developments possible.
Edit: And here's cPanel's official announcement, as well.
—
This content was last verified in July of 2022. If you find an inaccuracy, please let us know! In the meantime, see our documentation site for the most up-to-date information.
---