LiteSpeed Web Server: The World's First Web Server to Offer HTTP/2 Support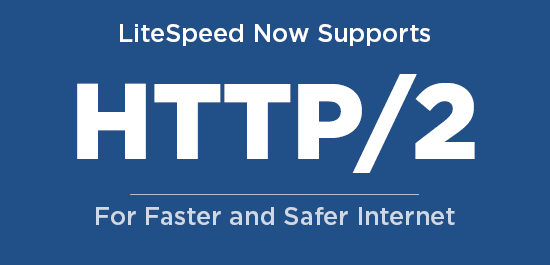 Development
For the past two years, we have been developing solutions to stay "ahead of the curve" in anticipation of HTTP/2's impending release and we are very happy to announce some exciting news! The wait is over and the latest RFC has made it official. HTTP/2 is finally here!
As we have been mentioning in our previous blogposts, HTTP/2 contains a number of advances that will allow the internet not only to be faster but also safer than ever by implementing:
* More efficient use of network resources
* SI reduced latency
* Faster page loads
* Longer connections
Google, SPDY and Browser Support
The most important aspect of the web's new protocol was Google's announcement to drop support for  SPDY in favor of HTTP/2. By adopting HTTP/2, Google has opened the door to an unquestionable deployment of standardized web browser support. As a result, Google Chrome, Firefox, Internet Explorer and Opera are already offering HTTP/2 support.
LiteSpeed Technologies and HTTP/2
Based on these events, we at LiteSpeed Technologies have been working hard to make sure that this new and exciting technology is available in our family of web server products. We have stayed abreast of the development process in order to be the FIRST web server developer with significant global market share to offer full HTTP/2 support. We are very proud to announce that both OpenLiteSpeed and our flagship product, LiteSpeed Enterprise 5.0 are fully comply with HTTP/2 specifications.
We're also very happy to announce that LSWS 5.0 is now completely stable and ready for production use. By upgrading to this version, users will not only be able to experience full HTTP/2 support but they will also be able to try out our latest product – LiteMage Cache. For more information, please visit our  LiteMage Cache page.
Finally, by offering full HTTP/2 support, LiteSpeed Enterprise seeks to make sure that the end user's overall experience is on par with Google by being part of the process that loads webpages faster and saves time for all users.
LiteSpeeders, make sure your server becomes a part of web history!  Deploy to HTTP/2 today!
---