LiteMage Showcase: Caching Made To Order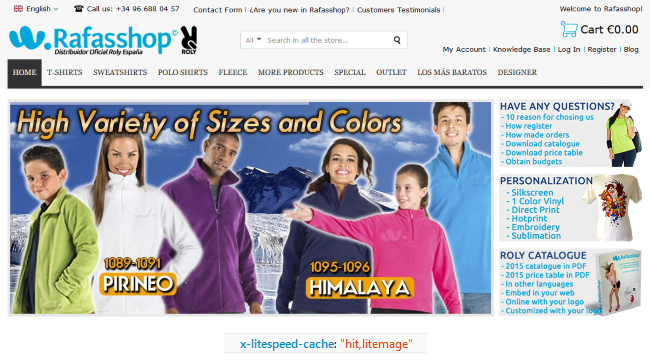 Welcome to the LiteMage Showcase! This is a series of blog posts where we take a look at Magento site owners using LiteSpeed Web Server + LiteMage Cache and highlight how LiteMage has uniquely benefited them. This week we are featuring Rafasshop, a Spain-based business specializing in providing wholesalers with t-shirts, polo shirts, sweatshirts, and many other customize-able textile products.
CUSTOMER PROFILE
Store(s): Rafasshop
Site(s): www.rafasshop.es
Hosting Provider: Aspiration Hosting
Magento Version: 1.7.0.2
Store Config: Multi-store with 3 domains and 20 store views in total
Number Of Products: 250 configurable products with 6,500 simple products
Avg Traffic: 30,000 unique visitors/month with 150,000 page views/month
3rd Party Extensions: LiteMage Cache, multiplecart with colorswatch, t-shirt designer, many extensions from Amasty, Extensionsmall, Fooman, M2E Pro, Mageworx, Mirasvit, Templates Master, Webcooking, Webshopapps, etc.
CHALLENGE
With a multi-store/multi-domain/multi-language setup, customer group and tier prices, configurable products with many attributes, and many basic to advanced custom extensions, Rafasshop is definitely a very complex store. Their heaviest customization consisted of showing their customers information on a configurable product page while pre-loading the information and images of all related simple products and their different stocks and arrival dates. Some of these configurable products have more than 150 simple products associated with them, all needing to be pre-loaded. To support this level of customization, a large amount of CPU resources needed to be used any time a customer loaded a product page.
THE LITEMAGE SOLUTION
A combination of ESI hole-punching and private caching allows LiteMage to punch holes in pages where private data exists so that the majority of the page can be publicly cached while the remaining private data is cached in per-user private caches. This allows pages containing user-specific information to be assembled entirely from cache, completely avoiding Magento's heavy backend! This significantly decreases page load time, memory usage, and CPU utilization.
Default settings support heavily customized Magento setups. Works out-of-the-box!
RESULTS
BEFORE
32-core Dedicated Server
128GB of RAM
Lesti_Fpc (Custom Settings)
Most Complex Product: ~ 3.5 seconds to load
AFTER
8-core Cloud Server
16GB of RAM
LiteMage Cache (Default Settings)
Most Complex Product: < 0.5 seconds to load
Rafasshop were happy to find that, contrary to their past experience testing other caches with their highly complex site, LiteMage worked for them out-of-the-box without the need for any manual configuration. With LiteSpeed + LiteMage, they were able to severely cut down on hardware costs while still seeing load times much faster than previously possible!
We also plan to add more configuration options to LiteMage's built-in crawler that we think will further enhance Rafasshop's cache warm-up process.
Interested in LiteMage Cache? Click here to find out more or visit our Magento Connect page to try LiteMage for yourself!
---