LSCWP Hits 2,000 Downloads! Here's What People Are Saying!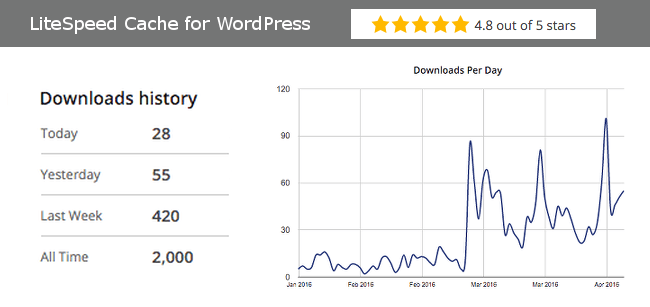 In early January, we blogged about the great feedback that our LiteSpeed Cache Plugin for WordPress (LSCWP) was receiving. Since it's official release on January 20th, LSCWP has continued to receive very positive feedback. Three months and 2,000 downloads later, we thought we'd share some of this feedback and how it has shaped the development of our LSCWP plugin.
First, some positive feedback:
Another user provided non-public, direct feedback, so we'd like to keep him anonymous until his results are published:
"It is pretty amazing what the site / server can handle when using the cache. I mean Cloudways Apache + Nginx + Varnish crashed at 450 concurrrent users and I am currently hitting our site with 3000 Concurrent users and it handles it easily. Makes me wonder just how far it can go!"
We have also been listening and adding features quickly based on your feedback.
"Overal is good and need more feature to support e-commerce and include/exclude pages from cache" – 5/5 – DPWP
…Would like a button to reset the cache when there are code updates, but still it's not a problem, the performance is really great. Thank you!" – RwkY
These changes were made in the next update (1.0.1) and were improved upon further in version 1.0.3.
Lastly, we received a lot of feedback and feature suggestions from FolioVision including a more centralized configuration, an htaccess/rewrite rule editor, and the ability to cache commenters.
In the week that followed we released version 1.0.4, which included all of these features and more.
LSCWP has received a large amount of active development during the last few months and many improvements and features were added thanks to feedback from you, the users! With your help, we hope to make the LiteSpeed Cache Plugin for WordPress the best WordPress caching plugin out there!
Are you using our LSCWP plugin? Leave us a review on our plugin page! Or maybe there's something you'd like to see in a future release? Let us know in the comments below!
---