The Best Online WordPress Communities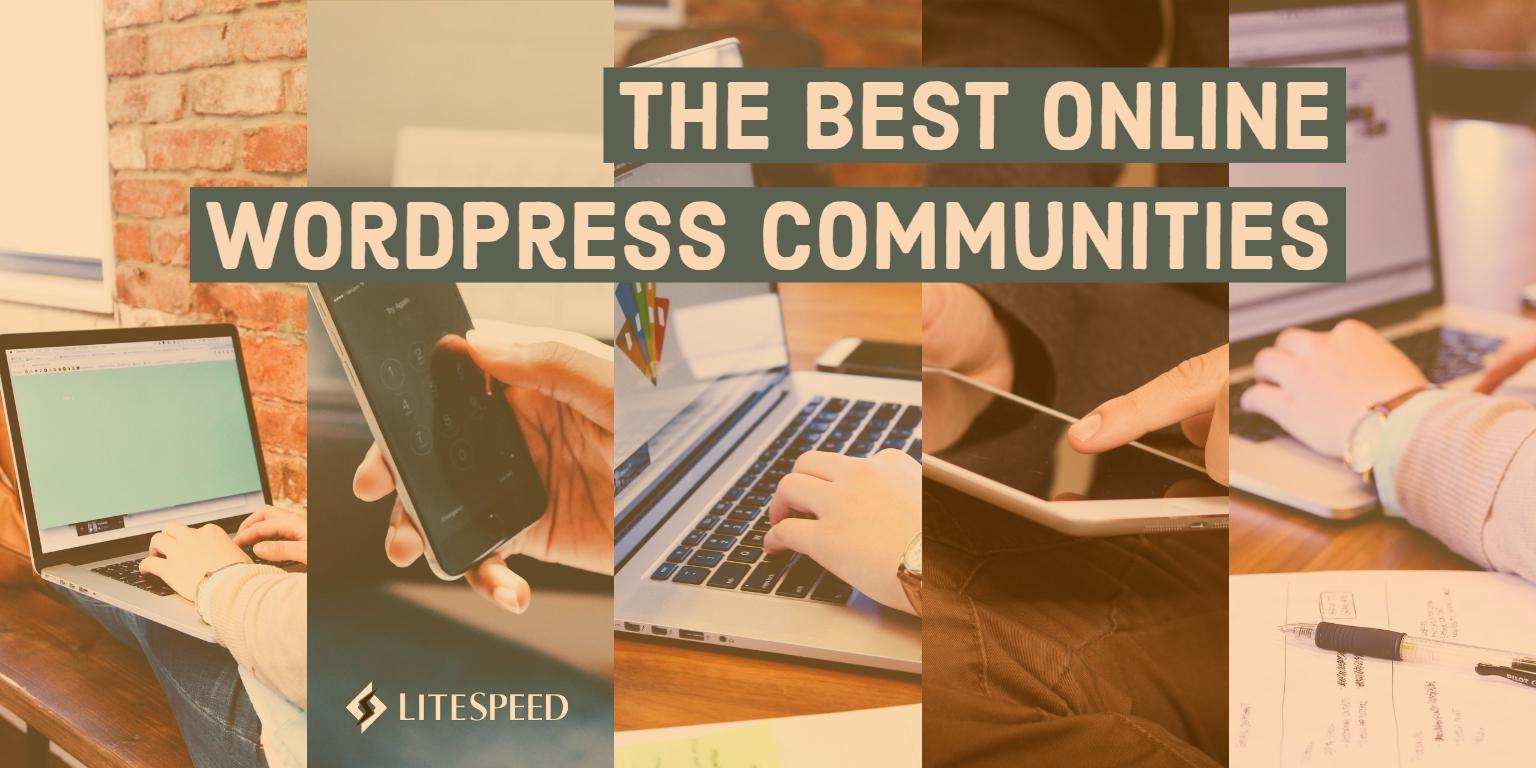 Today we've asked our friend Johnny Nguyen to share with us some of his favorite message boards, groups, and forums for WordPress enthusiasts. Johnny is a WordPress performance-hosting expert, and is active in the WP community, providing helpful WordPress guides at wpjohnny.com. He also offers ultra-fast WordPress hosting at johnnyvps.com.
Whatever your level of WordPress experience, if you're looking to make connections, get help, or to share your own knowledge, one of these online communities should be right up your alley!
Without further ado, here's Johnny!
—
Why go it alone when you can learn and share with new friends?
No matter what level you're at (beginner or expert) or what aspect of WordPress you're in (designer/developer/marketer), there are many communities for you to meet like-minded folks. Below are a handful of my personal favorites and the reasons why I like them!

Hosting Groups/Forums
Why belong to Hosting Groups or Forums? Because every website should be built on a solid foundation, which is solid hosting. Otherwise, you'll never know if your site issues are coming from your website code or your web server. Sure, you can do what most people do, which is hop on a cheap shared hosting plan from Godaddy, SiteGround, or A2. But you could also join some groups and learn more about the best performance hosts and why. Your site may be small today but one day you'll grow into a bigger plan and it's good to know how to look for them.
The simplest and easiest place to get a pulse on what's popular in the WordPress hosting world. Who's good, who's not. Which stacks (Apache/Nginx/hybrid/LiteSpeed) are the best and why. You should be careful that many reviews out there are quite subjective. Somebody might tote one company as the best because they migrated from an awful host previously. Another person might bash a good company because they didn't know how to manage their own site.
You should also be careful to take note of the commenter's skill level and use scenario. Expert command-line users may hate on cPanel, or newb users will complain that developer-grade tools are too hard to use.
WebHostingTalk.com aka WHT (website forums)
This is probably the old and most official way to get lots of webhosting information but it can be terribly overwhelming. It can also be information overload for the average user. This is only recommended for real Linux/Unix geeks, hosting businesses, admins maintaining servers, or just plain curious folks who like to read a lot.
WHT is more of a place to find alternate solutions rather than simple answers. You'll find solid arguments going back and forth for every user scenario, with expert opinions backing both sides. Throw in the rapidly-outdating pace of technology and you're never sure what the best answer is at any specific moment. Honestly, WHT could confuse you more than anything.
A cleaner version of WHT, for fast and quick answers about server administration than actual full-on discussions (although that happens, too). I also like their cleaner UI, and it feels much easier and less bloated than WHT's overly gray design.
This is a great place to find current deals on the latest VPS plans and webhosting tools. Do I recommend this for average users and busy people trying to run their online business? ABSOLUTELY NOT! This for finding throwaway VPS boxes to do experimental testing before deploying onto your production sites. Meet lots of like-minded experimental folks here and also get the dirt on what different companies are doing. Which companies are shady, which companies are over-selling their true capacity and such matters.

Theme Groups/Forums
In WordPress, theme houses are run like little religious cults. Every framework community truly believes their theme is the absolute best foundation for a high-quality WordPress site. This is a great place to meet other people using the same theme and sharing little hacks and tricks to customize their theme. You'll also find incredible inspiration and community showcases pushing the limits of what your theme can do.
If you're ever out of your league and need to hire someone to work on your site, it is highly recommended to choose someone familiar with your theme!
Genesis is the #1 framework for WordPress, probably since 2012 or maybe even before that. Why? Clean code is the main reason. It's truly high-performance, fast, and easy to work with. It was THE high performance theme even back before WordPress performance was a trending topic. Many developers preferred it (and still do to this day) because it was not only clean and fast but easy to work with and customize.
Genesis struck a nice balance between just enough basic features that a theme should have (like speed, SEO, accessibility, and customization) without so much CSS/JS bloat that the site ran slow or felt cumbersome to customize. Unfortunately, Genesis popularity waned a little over the years as more power started falling into the hands of average users. Now page builders are the favored tool even though many developers still prefer hard-coding from scratch with a framework. Anyway, that's a whole other can of worms to debate about.
Genesis/StudioPress forums are the best place to find help for typical Genesis theme problems. The forums are full of information and you'll probably find many posts from users with the same problem as you. Read around and figure things out on your own! Great for newbies and those wanting to find lots of information. Many of these groups also discuss every aspect of WordPress, not always only about their respective themes.
A great place to hang out among many professional web developers, also famous theme & plugin developers, and even the core Genesis/WordPress team. It's fun to play fly-on-the-wall here and bookmark all of the incredible resources they share back and forth.
I would not recommend this place for newbies as the pros don't like to spell everything out for beginners. It is assumed that everyone here knows the basics of using WordPress and delving into common files like wp-config.php, or knowing which directories to look inside for typical problems.
An incredible theme just every bit as high-performance and customizable as Genesis and it even offers a free version. Their freemium model has done well to attract both beginner users as well as developers (unlike pure premium themes like Genesis/Thesis).
I not only like this theme but the fun healthy spirit of this group. Many levels of users resolving each others problems and having fun with Facebook.
Like GeneratePress, these are also freemium theme groups. Many users and lots of discussion going back and forth about every aspect of WordPress. These groups are great for beginners as the questions and help tend to revolve around beginner stuff. If you are NOT a beginner and/or you know how to code, you may find these groups kind of repetitive as the same basic questions get asked over and over.

Page Builder Groups/Forums
The other religion in WordPress is the page builder groups. The birth of the page builder has probably been the biggest innovation in WordPress lately. While expert users and developers may hate it for putting too much power in the hand of beginner users or creating compatibility issues, beginners for the most part have absolutely enjoyed page builders. If anything, some people are even more loyal to their page builder than to their theme.
I only list the Facebook groups for the 2 biggest page builders (and their communities). But I do feel it's worthwhile to explore beyond them and discover the uniqueness of Oxygen, Brizy, DIVI, and others.
Probably the trendiest page builder out there. Whatever new website design trend there is, Elementor will probably be the first to cater to it. This is great if you're a newbie user who wants to copy all of the latest design effects. This group is also good if you just plain like Elementor (obviously) and how it works. Meet other Elementor users and see what fun things you can do with your website design without learning how to code.
BB is probably the most stable page builder for WordPress. It doesn't always keep up with the latest design trends but it's super solid, easy to work with, very stable and mature. Of course, you will always have people who feel the opposite about the 2 groups…or point to some critical issue about one page builder or the other.

Development groups
These are all good all-around Facebook groups to join and talk about anything involving WordPress. Thanks to their broad coverage of WordPress, you can talk about anything WordPress without worry of annoying people who only want to hear about a theme/plugin/etc.
Friendly group with many small business users likely doing what you're doing, trying to build a successful WordPress site and grow their business. Lots of practical advice on not only WordPress, but on running a business in general. You'll learn about best plugins, best practices, and also helpful business tips. Very friendly community and great pay-it-forward mentality here.
Great for finding expert help for your WooCommerce issues. WooCommerce is one hell of a beast and seems prone to always causing conflicts or breaking your site on the latest update. Go here to see how all the other pros are dealing with it.
Fantastic group to learn everything there is about website performance. It's basically thousands of users (experts and newbies alike) nerding out on every possible tactic to speed up their site. Find out about the best hosting, CDN, caching, asset optimization, and other WordPress speed optimization tactics. Be careful, speeding up sites can be incredibly addictive! First you drop your site from 5 seconds to 1 second. Then from 1 second to 500ms. Then try to get even below 500ms. The addiction never ends!

Marketing groups
Make Money with Web Design (Facebook group)
(or any other "online marketing" or "digital marketing" group)
These are great for you to learn the ropes to running an online business. Things like negotiating with clients, setting a fair pricing strategy, the right copy. You can also share your URL with other members for feedback on your logo or web page design. It's also just fun to see what everyone else is doing and what tools they're using to get things done.
While many of these groups don't explicitly say WordPress, it's practically assumed that just about everyone in there is using WordPress. (Typically, Shopify or other communities will specify the word "Shopify" in their group name.)
This is far from the only membership group out there. There are several. I noticed membership-business related groups tend to have some advantage from the other usual communities. One is they have more serious small business owners who are trying to reach customers. You may find this especially refreshing compared to the usual WordPress groups filled with newbies and wannabe entrepreneurs looking for the next get-rich-quick scheme.
You may also like that membership-related groups tend to be much more balanced between male and female members. Females can be simply nicer, more respectful, and don't have the typical ego-driven attitudes you find in male-dominant communities.
This is especially useful for learning the latest tips and tricks for maximizing your Facebook ad campaigns and also to learn which plugins other members are using.
—
Our thanks go out to Johnny for sharing his expertise here today. What a great list!
So, what about you? Do you have a favorite online group that the LiteSpeed community would like? Tell us about it in the comments!
---