Easy Just Got Easier: Announcing the Release of the Plesk LSWS Extension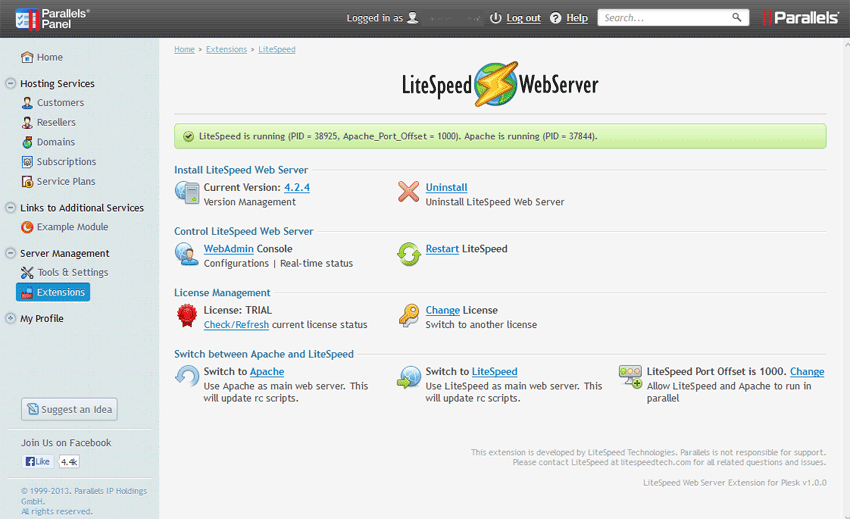 Our new extension for Parallels' Plesk panel makes it exceedingly easy for Plesk users to try LiteSpeed Web Server. While LiteSpeed Web Server has always been compatible with Plesk, now you can control LSWS directly from Plesk — install LSWS, register a license, set port offset, access LSWS's configurations, switch between Apache and LiteSpeed — they're all just one click away.
The Plesk extension also makes it even easier to get a trial license. (This function will be added to our cPanel and DirectAdmin plugins soon.) In the Plesk plugin, if you install LSWS and select to use a trial license, the extension will automatically request and download the trial license without any further steps. Getting a trial license takes no time at all. You can have a working (trial) copy of LiteSpeed on your server and running in less than five minutes. Why not try it out? It's free.
Installing the Plugin
Installing the extension itself is also incredibly simple — just two steps:
1. Download the plugin from http://www.litespeedtech.com/packages/plesk/litespeed-plesk.zip
2. Then just add the .zip in Plesk's Server Management > Extensions.
That's it. Then you're ready to run LiteSpeed from Plesk — Download a new installation, get a trial license, try it out on a different port, then switch over. The setup is pretty self-explanatory, but we'll work on getting a wiki to guide you through it soon.
Welcome to LiteSpeed.
---